Dallas Metblogs is Back!
So I have been off the blogging wagon for awhile, but I am back on with a mission to keep this blog updated and to add a consistent group of diverse bloggers to finally represent Dallas properly here at Metblogs.
First Things First…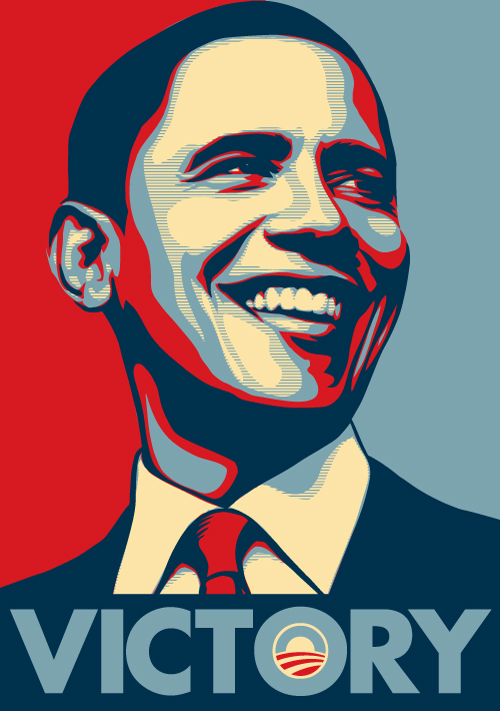 Hell Yes!
Image by: Shepard Fairey
On the art front..
Take Your Time: Olafur Eliasson opens this Sunday at 3PM at the Dallas Museum of Art. I cannot express how amazing this man's work is. If you can't make the opening, there will be a talk with the artist on November 12 at 7PM in the Horchow Auditorium. If you can't make either of these, just don't miss this exhibition.
CADD Art Lab Opens
The Contemporary Art Dealers of Dallas also known as CADD, have opened an amazing exhibition space in Downtown Dallas, called Art Lab. Anne Lawrence, former associate director of Road Agent (gallery), is now the director of CADD and curator of Art Lab.
Their inaugural exhibition Indexing the Moment, is a group exhibition featuring 11 of the 14 CADD galleries, as the organization has added 3 new members since its inception, which include: Dunn and Brown Contemporary, Mighty Fine Arts and Light and Sie. The next exhibition will open next week on Thursday, November 13, from 5-8 PM.
CADD Art Lab is located at 1608-C Main St in Downtown Dallas, in between Neiman Marcus and The Joule Hotel. For more information visit caddallas.net
Dallas Represents in the latest edition of New American Paintings no. 78
The latest edition of New American Paintings is out, and DFW is solidly represented by Steven Hopwood-Lewis, Brent Ozaeta, Margaret Meehan, Elliot Johnson, Vincent Falsetta and Paul Booker, just to name a few. You can pick up a copy at your local Barnes and Noble and other major bookstores, or you can order a copy at newamericanpaintings.com
The Public Trust and Barry Whistler given the nod in the Observer's Best of Dallas 2008
This is an older news item, but worth mentioning. The Observer's Best of Dallas recently came out and awarded The Public Trust with Best Reason to Visit Deep EllumM, and Barry Whistler Gallery was awarded Best Art Gallery. On another awards note, The Public Trust was also awarded Best Place to Meet an Artist in D Magazine's, Best of Big D
THE Magazine launches in Dallas
I personally have been waiting a long time for this, a free distribution publication focused solely on the arts, and now it is here. THE has been holding it down in Santa Fe for a minute and then expanded to cover Los Angeles and now it is here in DFW, covering all aspects of the arts. It is a quality publication, with reviews, interviews and editorials on everything art in DFW. So if you are out and about pick up a copy, they can be found throughout the city in stands as well as galleries, museums and other cultural spots. For more info visit themagdfw.com
Dallas Represents in Miami during Art Basel
Art Basel is an international art fair that takes place twice a year, once in Switzerland and once in Miami Beach. Basically it is an event that draws the world superpower galleries and top tier collectors, for a 4 day art buying/viewing frenzy. You can read more about it here.
As the notoriety of this fair grew, so did the need to represent the other 99% of art galleries in the world, thus came the "satellite" fair. These were fairs that took place concurrently with Basel, and now play just as important a role as Basel in the art fair world. Three Dallas galleries (that I know of) are going to be exhibiting at Aqua Art Miami. The Public Trust will be at The Aqua Hotel, while Light and Sie and Conduit Gallery will both be at Aqua Wynwood. So if my post has got you amped on a trip to Miami, don't be a stranger while you're there.
###