Every Tuesday night!
It is Wednesday I'm aware, but wanted to let everyone know about Tuesdays @ Zyphers on Lower Greenville. I don't really know much about the spot. It was nice and not really grimey but my friend Phooka and Donny play up there on Tuesdays! Check the flyer below. They had 3 wells I believe for drink specials. Mostly drum and bass styles all night.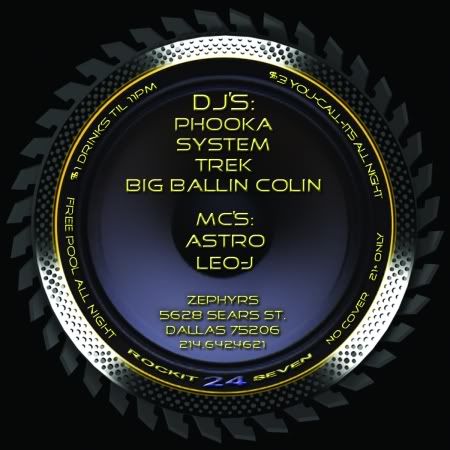 This is from Nature's post:::::::::::::>>>>>>>>>
Ok… Despite the spring flashback weather were getting today, summertime is knocking loud and clear. Sooooooooo TheParty is answering with that early pool side mixtape.
TheParty Vol. 3 "Candy Rain" drops this Wednesday at RGRS. Of course it's FREE so get there early (it's while supplies last). This one is gonna set the summertime on fire!!!!
"Candy Rain" features a new Nature Track called BOOTS. I sampled R Kelly's Verse from "I'm In Love With A Stripper 2", yes…… I did. My man Gnar-los is also on the track doing his best Luke Sky impersonation in attempt to get those 19yr old birds game ready. It's hilarious!!! You can download it off my MYSPACE for that early look, then cop the whole CD tomorrow. 3's the magic .. so you already know what it is….. Check Gnar-los on the top 8.